Nissan Brings Back Glow Guards For Halloween 2022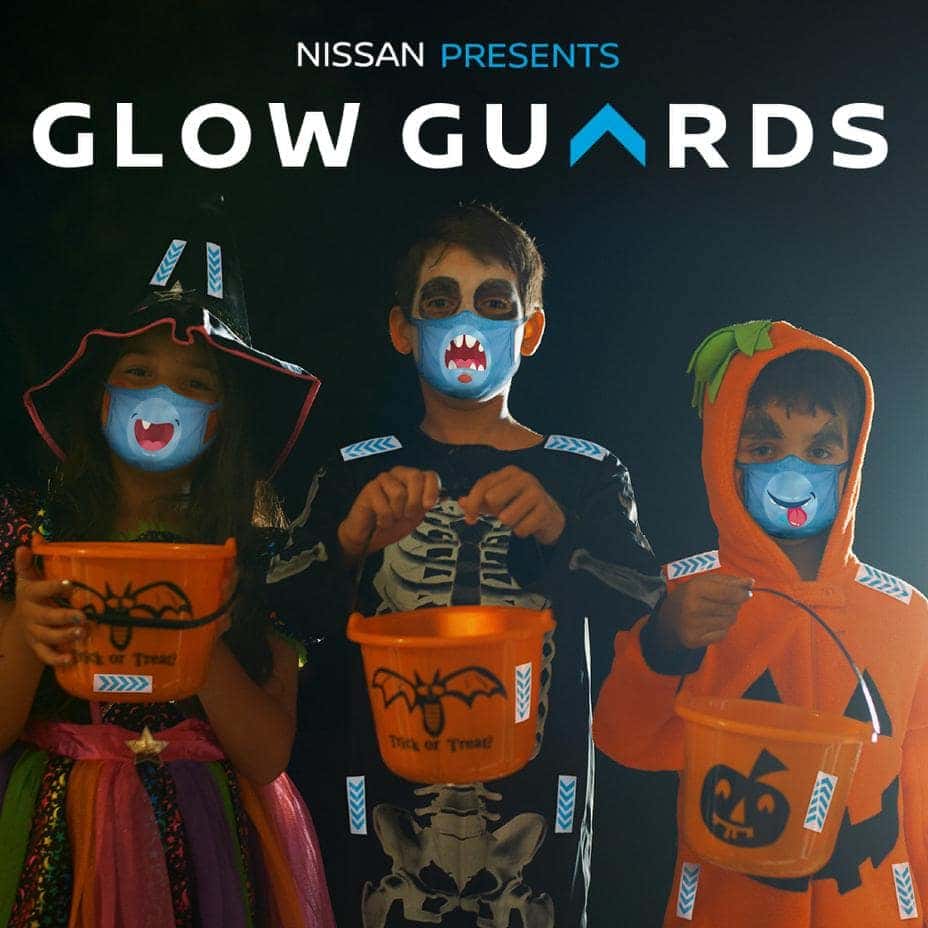 Nissan Canada has announced the return of Glow Guards for a safer 2022 Halloween season. 
These reflective, self-adhesive stickers can easily be attached to children's Halloween costumes to make them more visible to drivers. This year, Nissan is also introducing mask stickers with Halloween-themed graphics as a fun, safe, and reflective way to dress up face masks.
A study published by the University of British Columbia found children ages four to eight are 10 times more likely to be struck by a vehicle on October 31 than any other night of the year. This spike can be attributed to an increase in foot traffic in residential areas, poor nighttime visibility due to costumes, and a heightened sense of excitement, which can often lead to overlooked safety rules.
However, this does not mean the festivities have to stop. Nissan Canada is sharing five safety tips to help keep kids and drivers safe on the roads this Halloween season:
Make Visibility Your Number One Accessory –

Adding reflective stickers to costumes is an easy way to help children remain visible to drivers during evening outings. Parents can visit Nissan dealerships across Canada to pick up Glow Guards—peel-and-stick reflective stickers that can easily be attached to children's clothing or Halloween costumes to deliver a safe, highly visible pedestrian indication to drivers.

Dress for the Occasion – Prevent trips and falls by ensuring costumes fit properly, avoiding loose strings and long fabrics. While wands and swords make great accessories for indoor parties, they can be a potential safety hazard when trick-or-treating, so try to limit them. Instead of full Halloween face masks, which can reduce peripheral vision, consider giving your face mask a makeover. Available in fun graphics like vampire's teeth, Nissan mask stickers are a great way to customize face masks.
Put Planning at the Forefront – If children are old enough to go trick-or-treating by themselves, sit down with them to plan their route in advance. Encourage them to only visit homes within the neighborhood and stay within their group. Also, remind kids of road safety practices, including staying on well-lit streets, walking—not running—from house to house, and always checking both ways before crossing the street.
Stay Alert While on the Road – Whether driving kids to a friend's house or returning home after a party, drivers should practice an abundance of caution when driving on Halloween night. Drive slowly in residential areas, watch for children who may unexpectedly dart into traffic, and keep an eye out for stragglers at crosswalks. Additionally, parents transporting their kids to activities should find a safe spot for drop-off and pick-up and use their hazard lights to notify nearby drivers.
Follow Local Health Guidelines – Be sure to check and follow local, provincial, and federal health and safety regulations and guidelines before embarking on trick-or-treating to ensure a safe and spooktacular Halloween season for everyone. In addition to practicing safe physical distancing, don't forget to wear a face mask.
Nissan first launched Glow Guards in 2019. To help parents and guardians continue to encourage a safe Halloween experience for their trick-or-treaters, Nissan is thrilled to bring back Glow Guards with added features for 2021.
This year's Glow Guards, including standard reflective stickers, Halloween-themed mask stickers, and a limited availability of cloth face masks, are now available for pick-up at Nissan dealerships across Canada. 
We invite our customers and their families to visit us at Ajax Nissan to pick up free Glow Guards until October 31, 2021.