CAN ELECTRIC CAR BATTERIES BE RECYCLED?
Electric vehicles have a completely different maintenance schedule than traditional gas-powered cars do. While you might not need to get an oil change every six months, you do need to replace your electric car's battery every five to ten years. When the time comes to switch out your old EV battery for a new one, you may be left thinking about what you should do with that dead battery. This is where our infographic comes in. Check it out below for more information on how electric car batteries can be recycled and reused to create new batteries.
This infographic was created in partnership with Revolution, a hard drive destruction and electronics recycling company with locations in Toronto and Ottawa.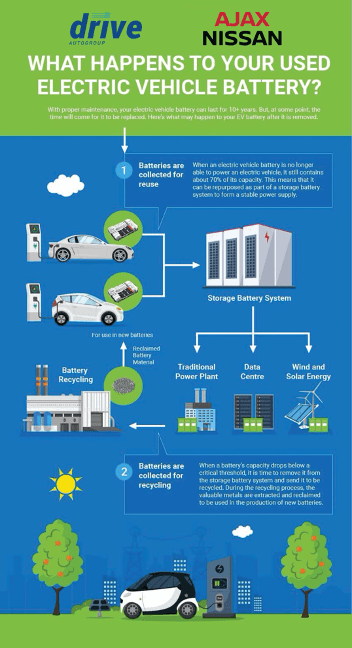 For more information on our electric vehicle, the Nissan Leaf, check out Nissan Canada's website here or to take a look at the current selection of EVs at our Ajax dealership, click here.